Swami Lalitanandaji inaugurated the tagore Garden Dhyana Mandali on October 22, 2017, in the presence of several devotees and Brahmachari Vinayanandaji. Shifting its location from Delhi's Maya Puri to Tagore Garden, this Mandali has been started by ardent devotees Alok and Sunaina Misra who wish to felicitate fellow devotees residing in west Delhi for meditation in the evenings.
The Mandali has been active since January 11, 2009, beginning its regular group meditations for devotees at the Maya Puri centre.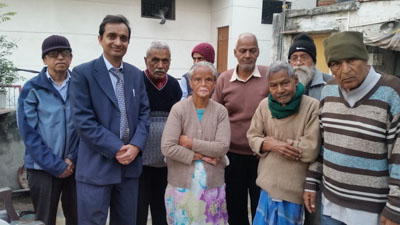 As part of the charitable actvities undertaken by the Mandali, devotees have been providing aid to an old age home by the name of Sai Old Age care located at Todapur village. They have distributed thermal inner wear, socks and caps to the residents, and have been providing them with their monthly medicines requirement including blood sugar testing kits on a regular basis.
For more information, please contact:
Sri Alok Misra