Babaji said, 'Repeat to each of your disciples this majestic promise from the Bhagavad-Gita: Swalpamapyasya dharmasya trayate mahato bhayat.' ["Even a little practice of this dharma (religious rite or righteous action) will save you from great fear (mahato bhayat) the colossal sufferings inherent in the repeated cycles of birth and death."]
– Babaji talking to Sri Sri Lahiri Mahasaya (as quoted in the Autobiography of a Yogi)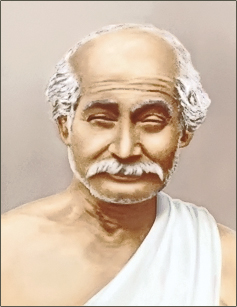 Lahiri Mahasaya was born on September 30, 1828, in the village of Ghurni in Bengal, India. At the age of thirty-three, while walking one day in the Himalayan foothills near Ranikhet, he met his guru, Mahavatar Babaji. It was a divine reunion of two who had been together in many lives past; at an awakening touch of blessing, Lahiri Mahasaya became engulfed in a spiritual aura of divine realization that was never to leave him.
Mahavatar Babaji initiated him in the science of Kriya Yoga and instructed him to bestow the sacred technique on all sincere seekers. Lahiri Mahasaya returned to his home in Banaras to fulfill this mission. As the first to teach the lost ancient Kriya science in contemporary times, he is renowned as a seminal figure in the renaissance of yoga that began in modern India in the latter part of the nineteenth century and continues to this day.
Paramahansa Yogananda wrote in Autobiography of a Yogi: "As the fragrance of flowers cannot be suppressed, so Lahiri Mahasaya, quietly living as an ideal householder, could not hide his innate glory. Devotee-bees from every part of India began to seek the divine nectar of the liberated master....The harmoniously balanced life of the great householder-guru became the inspiration of thousands of men and women."
As Lahiri Mahasaya exemplified the highest ideals of Yoga, union of the little self with God, he is reverenced as a Yogavatar, or incarnation of Yoga. Read more here.
Programme for NCR
Function

Date/Day

Activity

YSS Noida Ashram

YSS Delhi Kendra

YSS Gurugram Kendra

Mahasamadhi of
Sri Sri Lahiri
Mahasaya

Sept 18, Sunday

Long
Meditation

—

10 am to 4 pm

—

Sept 25, Sunday

Long
Meditation

1:00 pm
to 7:00 pm

—

10 am to 4 pm

Sept 26, Monday

Commemoration
Programme

5 pm to 7:30 pm

5 pm to 7 pm

5:30 pm to 7:30 pm

Avirbhava of Sri Sri Lahiri Mahasaya

Sept 30, Friday

Commemoration
Programme

5 pm to 7:30 pm*

5 pm to 7 pm

5:30 pm to 7:30 pm
To view the 2023 Calendar of Events of YSS NCR, click here.