"The value of silence cannot be understood except through experience…. What joy awaits discovery in the silence behind the portals of your mind no human tongue can tell."
— Paramahansa Yogananda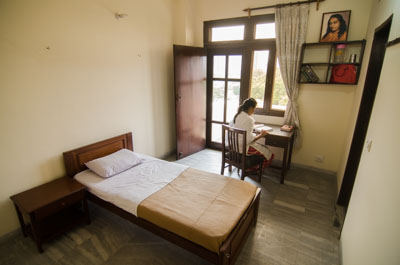 YSS Noida Ashram is designed with a special retreat facility with 60 single rooms for devotees. Separate accommodation is provided to men and women. Devotees may register for either conducted group retreats or individual silence retreats. A central garden resplendent with blossoms and shady trees evokes the sacred feeling of an ancient ashram set amidst sylvan surroundings, saturated with the timeless peace of the ages.
CONDUCTED GROUP RETREATS, led by Sannyasis, are held regularly, mostly over weekends. These spiritual retreats consist of 2-3 days of silence, morning and evening Energization Exercises and Group Meditation, a review of our divine Guru's techniques of concentration and meditation, Gurudeva's teachings and How-to-Live principles.
INDIVIDUAL RETREATS are encouraged. Devotees can stay in the ashram for 3-7 days and utilize this period for remaining in silence, introspection, spiritual reading, and for practising the presence of God. ​​​
Retreats, Sadhana Sangams and Long Meditations for Noida, Delhi and Gurugram - JULY TO DECEMBER 2022

Programme

Date

Activity

Sakha Ashram
Noida

Dhyan Kendra
Delhi

Dhyan Kendra
Gurugram

Long Meditation

Sept 18,
Sun

Long Meditation

—

10:00 am
to 4:00 pm
—

Long Meditation

Sept 25,
Sun

Long Meditation

1:00 pm
to 7:00 pm

—
10:00 am
to 4:00 pm

Long Meditation

Oct 2,
Sun

Long Meditation

1:00 am
to 7:00 pm

—

Long Meditation

Oct 16,
Sun

Long Meditation

—

10:00 am
to 4:00 pm
10:00 am
to 4:00 pm

Long Meditation

Nov 13,
Sun

Long Meditation

1:00 pm
to 7:00 pm

10:00 am
to 4:00 pm

10:00 am
to 4:00 pm

Long Meditation

Dec 18,
Sun

Long Meditation

11:00 am
to 7:00 pm

10:00 am
to 6:00 pm

10:00 am
to 6:00 pm